My Go To Chia Pudding Recipe
Let me start by saying why I love Chia seed pudding. Easy to prepare, packed with nutritious benefits (you can read all about my love for Chia seeds
here
) and can be made with so many different flavors & toppings.
So straight to it; the basic ratio for that perfect Chia Seeds Pudding recipe with the right consistency  is as follows:
2 cups of nut milk (I usually use coconut , oat or almond milk)
1/2 cup Chia seeds
To this you can go wild with all sorts of additions; some ideas:
Flavors:
2 tbsp cocoa powder
2 tbsp cinnamon
1 tsp pumpkin spice
1 tbsp Carob powder
1/4 cup pumpkin puree or apple puree
1/2 tsp vanilla extract
pinch of salt ( it always helps to enhance the flavor)
Step by Step Instructions
Step 1
Whisk all ingredients together
Step 2
Let it sit for a few minutes then whisk again to prevent the chia seeds from clumping together
Step 3
Let the mixture chill in the fridge for at least 30 mins overnight
Step 4
Enjoy for breakfast or afternoon snack topped with berries, granola, cocoa nibs …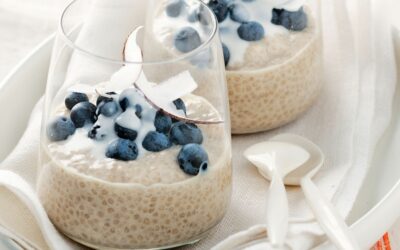 Breakfast! My favorite meal of the day & I'm on a mission to make breakfast cool, one delicious bowl at a time. Skipping meals especially breakfast will do a whole number to your overall health! It will send you off on a rollercoaster of hunger & cravings for...